Thanks to Deb Chitwood for the great chance to win this GIVEAWAY!!!!
3rd Blogiversary Giveaway – $645 Montessori Print Shop/Montessori at Home Products!!!
It's party time!!! I'm celebrating my 3rd blogiversary all month, and I'm starting the celebration with a TOTALLY AWESOME giveaway of Montessori products sponsored by Montessori Print Shop and Montessori at Home!
My blogiversary is April 13, but the giveaway is open from now until 10:00 p.m. MST Monday, April 15.
It's my 3rd blogiversary and I have 3 amazing giveaway prizes (ARV $645)!

Montessori Print Shop, one of my very favorite Montessori suppliers, is giving away a grand prize of 1276 beautiful printable Montessori materials in digital file format

! That's ALL the Montessori Print Shop PDF files, including 6-9 Grammar Boxes/Filling Boxes!!!

There's a second-place prize of a $100 Montessori Print Shop in-store coupon!

And that's not all! There's a third-place prize of a $24.95 Montessori at Home! eBook and Materials Bundle (which includes both the fabulous Montessori at Home! eBook and 21 Montessori Print Shop materials that go with the eBook)! The giveaway is open to my readers worldwide!
Montessori Print Shop Deluxe CD Rom:
Montessori Print Shop materials are wonderful – excellent designs and high quality images. Here are examples of just a very few of the materials offered in the
Montessori Print Shop Deluxe CD Rom
:
All PDF Files listed
at the
store
at the end of the giveaway:
1272 Montessori materials and
4 Primary Teaching Manuals in PDF File format
(Practical Life, Sensorial, Language, Math
Areas include:
Primary Teaching Manuals
Classified Cards / Picture Cards (vocabulary enrichment)
Culture

Celebrations
Music
Peace
Visual Arts

World Geography
Pre-Reading Activities
Phonics, Moveable Alphabet, Language, Grammar (including 6-9 Grammar)
Math

Introduction to numbers
Operations
Extension Lessons
Geometry

Nomenclature

Botany
Zoology
Other (Health, Science, etc)

Science

Animals
Astronomy
Plants
Science
Weather

Sensorial
Teacher / Administration
Toddler
This is perfect for school or home use for children ages 18 months to age 7 or 8 (grammar to age 9)! Current Value: $599.99 (on sale for 519.95). If you were to purchase all of these files individually,
it would cost $2767.52!
Montessori Print Shop
has
free printables
,
beautiful inexpensive printables
, a wonderful
blog
, and lots of great
information and resources
(see all the drop-down menus at the top of the Montessori Print Shop page)! For more information, read my
Sponsor Spotlight – Montessori Print Shop
. And be sure to check out the two
Montessori at Home bundles
!
Montessori at Home! eBook and Materials Bundle
For $24.95, the
Montessori at Home! eBook and Materials Bundle
contains the newly published 3rd edition of John Bowman's
Montessori at Home: A Complete Guide to Doing Montessori Early Learning Activities at Home with 3-6 Year Old Children
and 21 printable Montessori Print Shop materials that are recommended in the eBook!
Montessori at Home! eBook Included in the Bundle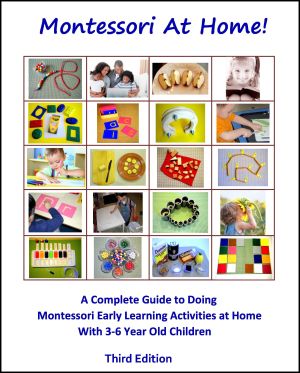 (Note: This contains Montessori at Home affiliate links at no cost to you.)
The newly revised Montessori at Home eBook is available for only $10.95 for 512 pages with over 300 early-learning activities!
In the multi-media PDF file eBook, you'll also find a quick start guide, 225 educational digital tablet app recommendations, hundreds of links to sites, blogs, and videos, and 76 pages of printable materials!
If you have any interest in using Montessori principles and/or activities at home, I can't imagine why you wouldn't want to own this book. It's a truly comprehensive and unintimidating introduction to using Montessori at Home! The 76 pages of printable materials alone are worth way more than $10.95.
You can get more information and resources at
Montessori at Home
! If you'd like to purchase right away, here's the direct link to the
purchase page for Montessori at Home!eBook.
Here's the direct link to the
purchase page for the Montessori at Home! Materials Bundle

(includes the Montessori at Home eBook AND over $60 worth of Montessori Print Shop materials to go with the book for only $24.95).
Here are some posts with excerpts and great activities from the Montessori at Home eBook:
21 Printable Montessori Materials included in the Bundle
Phases of the Moon (3-part cards & chart)
Animals of the Continents
Continents 3-Part Cards
Land & Water Form Photo Book
World – Control Maps, Masters and Labels
Moveable Alphabet – Print – (includes full instructions)
Sentence Cards – Step 1 – Set 1
Word and Picture Cards – Step 1 – Read Pictures
1-100 Math Series
Geometric Matching Cards
Geometric Solids 3-Part Cards – Blue
Skeleton Nomenclature Cards
Tree Nomenclature Cards
Phonics Sound and Picture Sorting
Association of Objects
What Does Not Belong
The Five Senses
Plant or Animal?
Animals and Their Names
Color Grading Cards
Metal Insets – Shape Outlines
What You Will Win:
A LUCKY 2nd Place Winner will win a $100 MPS in-store coupon! (Coupon is only valid for 1-time use, regardless of if the $100 is fully spent.)
Montessori Print Shop will ship the CD-Roms to the grand-prize winner at no cost to the winner. Grand-prize winner must provide Montessori Print Shop with full shipping address (including phone number). Winner will be contacted directly by e-mail for shipping address (address and phone number is kept confidential). Be sure to use an e-mail address in your blog post comment through which you can be easily reached if you win.
Who is Eligible:
This giveaway is open to anyone 18 and older worldwide. The first entry is mandatory. You must leave a blog post comment telling why you want to win (and be sure to say you did that on the Rafflecopter form)!
After you've completed your mandatory entry, there are lots of optional entries. You have many chances to win! (Note: For the extra entries, you may count ways of following that you already do. For example, if you previously "liked" Living Montessori Now on Facebook, you may still count that for your "like" Living Montessori Now on Facebook entry!)
It's easy to enter giveaways with Rafflecopter! Just follow the directions to enter.If you still have questions about the Rafflecopter form, here's a 52-second video with

quick directions for entering through Rafflecopter

. (Note: If Rafflecopter form loads slowly, please just wait for it to load. It'll appear right under the line with the smiley face. If this form doesn't work for you, you can sign up on the Rafflecopter form at the

Living Montessori Now Facebook page

. Just be sure to leave your blog comment here! Both Rafflecopter forms are the same, so it doesn't matter which one you sign up on.)
You must complete the Mandatory Entry to qualify for any additional entries. The giveaway closes 10:00pm MST on Monday, April 15. Best of luck!